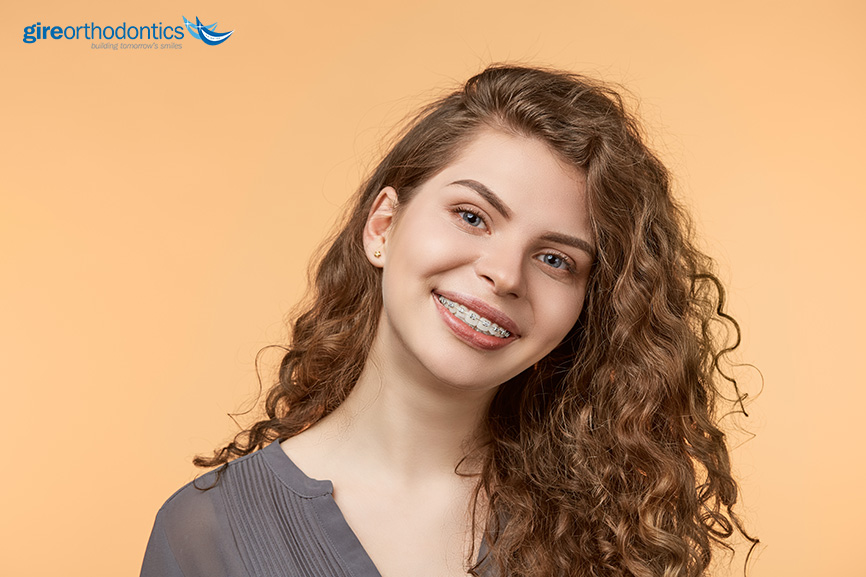 La Habra/Chino Hills, CA – If you've been living with a less than perfect smile, there is no time like the present to discover the power of orthodontics. And today, there are more options than ever before when it comes to orthodontic treatment. But, how do you determine which option is the best for you? Dr. Robert Gire of Gire Orthodontics, a La Habra/Chino Hills orthodontist, explains the types of braces available today.
Traditional metal braces with elastic ties – Metal braces are still the most common braces used today because they are efficient, effective, and economical. Today's metal braces aren't like those of the past though. The brackets are overall smaller, lower profile, smoother, and essentially more comfortable than previous versions from the past.
Clear/ceramic braces with elastic ties – These braces are similar to metal braces. Clear or ceramic brackets are bonded to the teeth (just like metal braces), however these tend to be less noticeable. Some even use tooth colored wires to make them even more cosmetically appealing. However, they tend to be slightly more expensive than metal braces. Also, since the braces themselves are clear, the ties holding the wire to the brackets can stain easily since they're more noticeable.
Lingual braces, with or without ties – These are metal braces with a twist. The brackets and wires go along the tongue side of the teeth, rendering them invisible to others. Lingual braces are more expensive than traditional braces and for some individuals, they are harder to clean. They may not be appropriate for all malocclusions or bites.
Invisalign or clear aligners – Invisalign uses a series of clear, removable aligners to guide teeth to their locations. Patients change to a new set of aligners every one to two weeks until the ideal tooth movement is achieved. The aligners are removable, so patients don't have to alter their diets or oral care habits, and they are clear, offering patients a highly cosmetic option.
Self-ligating braces (clear or metal, without elastic ties) – These are clear or metal braces that use a slide mechanism rather than elastic ties to hold the archwire in place. This allows for more comfortable tooth movement with less friction, and requires fewer orthodontic visits. Less friction means tooth movement is less painful, and many patients find these easier to clean since there are no ties around the teeth.
To discover which braces option is right for you, it's important to schedule a consultation with an orthodontist. At this appointment, the orthodontist can diagnose your malocclusion and discuss the pros and cons of each option with you. Together you can determine which braces option will fit best into your lifestyle and your budget. Call Gire Orthodontics today to schedule your complimentary consultation, 562-690-1199 (La Habra) or 909-393-9911 (Chino Hills).