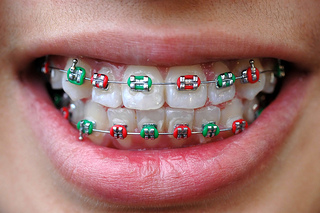 Wearing orthodontic braces may be the best choice for correcting your teeth and improving your smile, and that's why you've come to see Dr. Robert Gire at Gire Orthodontics. Braces, which consist of brackets and wires, work by gently applying pressure to the teeth, and that pressure causes them to move into the correct position. In some cases elastics, or rubber bands, are used to apply additional pressure needed to move your teeth.
The Purpose of Elastics
Customized for each patient, the rubber bands typically stretch over tiny loops on the top and bottom brackets. If worn consistently, and every day, these tiny elastics will apply the steady pressure needed to guide your teeth into the correct position.
These elastics are crafted from medical-grade latex, which is safe to be in contact with your mouth. It's common to remove the elastics during meals if opening your mouth wide enough to eat is difficult. Our staff will demonstrate how to affix the elastics so it will soon become second nature to replace them.
What Do Rubber Bands Do?
Rubber bands, or elastics, can be an integral aspect of orthodontic care, so if Dr. Robert Gire has prescribed elastics as a part of your treatment, it's important to follow the directions fully. Elastics help to align your bite or cause teeth to move in different directions and straighten more quickly. We will instruct you how to hook one end to an upper bracket and the other end to a lower bracket so the rubber band goes vertically or diagonally from one bracket to another. The tension of the rubber band produces pressure on the bracket, which causes the teeth to move and straighten. This tension is also sufficient to correct an overbite or an under bite in the jaw.
If rubber bands are a part of your treatment plan, there are a few things to keep in mind. With rubber bands, you won't be able to open your mouth fully, so they will have to be removed when you eat and reapplied after meal time. Many times, rubber bands are only needed at night, so you won't need to worry about eating with them. Also, if you try to open your mouth too wide, your rubber bands might snap – so be careful!
Failure to wear your elastics full time or as instructed can lengthen your treatment time and may make it more difficult to achieve an optimal result. But don't worry; your time in elastics will be well worth it when you see your beautiful, new smile.
Do I Really Need To Wear My Rubber Bands With My Braces?
Most of our patients at Gire Orthodontics will need to wear rubber bands at some point during their orthodontic treatment. The main reason our patients are instructed to wear rubber bands is to correct their bite. If your teeth are not fitting together properly, Dr. Robert Gire will recommend that rubber bands be used. Dr. Robert Gire may also recommend you using rubber bands if to close or open spaces.
Rubber bands are a critical part of your treatment, and wearing them as Dr. Robert Gire and our team recommend will help move your teeth into the desired position. Dr. Robert Gire may ask you to wear your rubber bands full time, meaning that they should only be taken out when you brush your teeth three times a day, and they should be replaced at this time to keep fresh ones working. Other times, you may be asked to only wear them part time, such as only during the day or only during sleep.
If you still have any questions about orthodontic rubber bands, we invite you to give us a call or ask us during your next adjustment appointment. Remember, wearing rubber bands as prescribed by Dr. Robert Gire is an important step during your treatment, and can reduce the time you have your braces on. If you lose your rubber bands or run out, stop by La Habra or Chino Hills, CA office and pick up more!
Rubber Band Horoscopes: What Your Color Says About You
One exciting part about wearing braces from Gire Orthodontics is getting to choose the colors of your rubber bands. Orthodontists place elastic bands, or ligatures, over each bracket to secure the archwire in place. These rubber bands may be individual or connected, depending on your mouth's needs. From Dr. Robert Gire, you have the option of choosing the color of your elastics, which are changed about once every month at every visit. Our offices keep a color wheel handy to help you choose which ones suit you best!
Children and teens often enjoy picking different colors each month to express their creativity and coordinate their braces with outfits. Decorating your mouth with your favorite colors is fun for kids and takes some of the stress out of wearing braces. Adults who wish for subtlety have color options that blend in with the metal brackets and archwire. Common choices for adults include silver, clear, and gray tones.
Common Color Combinations for Rubber Bands
With individual ligatures for each bracket, you may choose different color combinations for special events. You can have alternating colors or place an entire rainbow over your teeth. Here are a few options to consider:
School spirit colors
Favorite sports team colors
Patriotic colors
Holiday themes
Some patients choose only one color to match their mood, personality, or favorite outfits. The palette of choices allows you to make bold statements with your braces or go for subtler tones that blend in with the metal structures. Keep in mind that bright colors make your teeth look whiter, while lighter shades, such as yellow and white, may cause your teeth to appear less bright.
What Your Rubber Band Color Says About You
Red tones indicate that you are ready for action and take charge of your life with aggressive, forward-thinking steps.
Blue tones are calm and relaxing. You are conservative and exhibit integrity when dealing with situations.
Green tones represent growth and balance. You are level-headed and look for opportunities to grow emotionally and spiritually.
Purple tones attract creative energies. You like to have fun and use your imagination in every aspect of your life.
Orange tones indicate that you are optimistic and thrive in social situations where communication is open.
Pink is a romantic color that represents a caring personality. You also enjoy having fun with silly games and endless laughter.
Rubber Bands Do's and the Don'ts
DO – Get in the habit of carrying around extra rubber bands and replace them as soon as one breaks. By consistently wearing the elastics, you may shorten the overall time needed to wear braces.
DON'T – Double up on elastics as this will cause too much pressure on the tooth or teeth and can actually harm the root of the tooth.
DO – Always wash your hands before removing or replacing the rubber bands.
DON'T – Overstretch the rubber band or it will lose its strength and it will be ineffective.
DO – Call us if you run out of rubber bands.
DO – Have fun with your braces and elastics. There are many different colors available that can let you show off your soon-to-be perfect smile.
Rubber bands are a key part of your orthodontic treatment, and learning how to remove and replace them is an important part to maintaining your braces. Before we set you on your journey to a perfect smile, we'll make sure you understand all there is to know about how to take care of your braces. Of course, if you have any questions about your orthodontic treatment, or orthodontics in general, be sure to contact our La Habra or Chino Hills, CA office, and our staff will be happy to assit you!