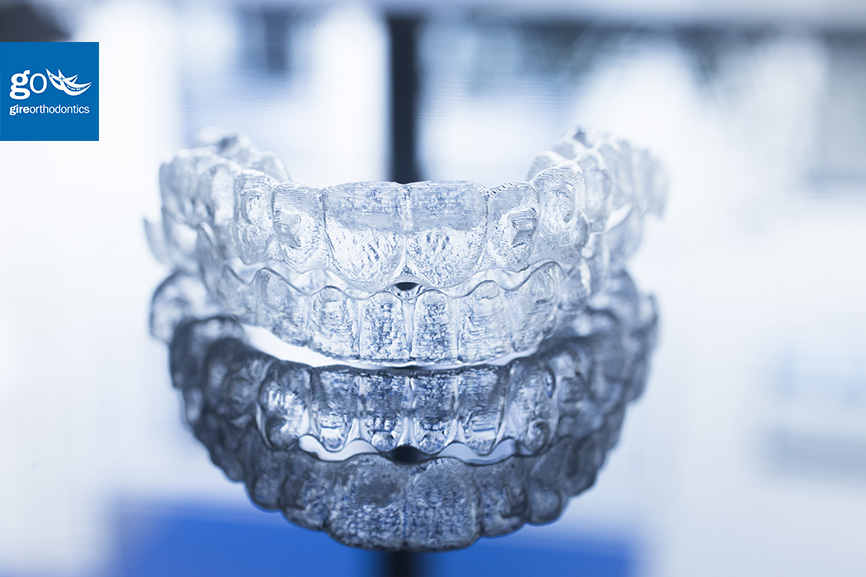 La Habra/Chino Hills, CA – Invisalign has gained much popularity since it was first introduced and Dr. Robert Gire is proud to be an Invisalign Gold Plus Provider. But what is it about this treatment that sets it apart from other clear braces? Dr. Gire explains the Invisalign difference.
Invisalign is virtually invisible. The aligners are made of a clear plastic that makes it difficult for others to even notice while you are in treatment. Clear braces are made of a clear or tooth colored material but in most cases the wires will still be metal. So they won't completely blend in with your natural smile. There are no brackets or wires with Invisalign but they system does use "attachments" (white bumps applied to some front and side teeth). They are less obvious than brackets and are designed to be discreet.
Invisalign is comfortable. Clear braces are more esthetically pleasing than metal braces, but there are still brackets and wires that can irritate the inside of your mouth. Invisalign is made of smooth plastic that won't injure the inside of your cheeks or lips.
Invisalign is removable. That's right – the aligners can be taken out. That means you don't have to make any adjustments to your diet while in orthodontic treatment. You can eat whatever you want because you simply pop out the aligners before you eat. That also means you don't have to spend extra time trying to brush and floss around brackets and wires. You can brush and floss normally and then place the aligners back in.
Invisalign is strong. As long as you take proper care of your aligners (not eating or drinking with them in, not placing them in hot/boiling water, placing them in the aligner cases when not in the mouth, and not leaving them in a hot location), you won't have to worry about the aligners getting broken or damaged. While clear braces have come a long way they still aren't as strong as metal braces and can break.
Invisalign won't stain because you remove them to eat and drink anything other than water. Clear braces can have a tendency to stain, especially if you eat dark colored foods or drink coffee, tea, or dark colored sodas while wearing them.
Invisalign isn't only for minor malocclusions. Invisalign has come a long way since it was first introduced and with the addition of buttons and attachments it can treat a host of more difficult malocclusions. Your orthodontist is the best person to determine if you are the right candidate for Invisalign treatment.
Invisalign is affordable. Many people think Invisalign will cost an arm and a leg but the cost is actually on par with that of clear braces.
Invisalign means less time in the orthodontist's chair. Because there are no adjustments needed to brackets and wires your appointments will have you in and out of the orthodontist's office quicker.
Invisalign shows you exactly what your smile will look like, from beginning to end. Thanks to 3D treatment planning you can visualize what your smile will look like at the end of treatment.
Invisalign can fit into any lifestyle. Because the aligners are clear, comfortable, and removable, you don't have to make huge adjustments to your lifestyle during orthodontic treatment. Invisalign is suitable for children, teens, and adults.
If you are ready to learn more about the Invisalign difference, call Dr. Gire today at 562-690-1199 (La Habra) or 909-393-9911 (Chino Hills).