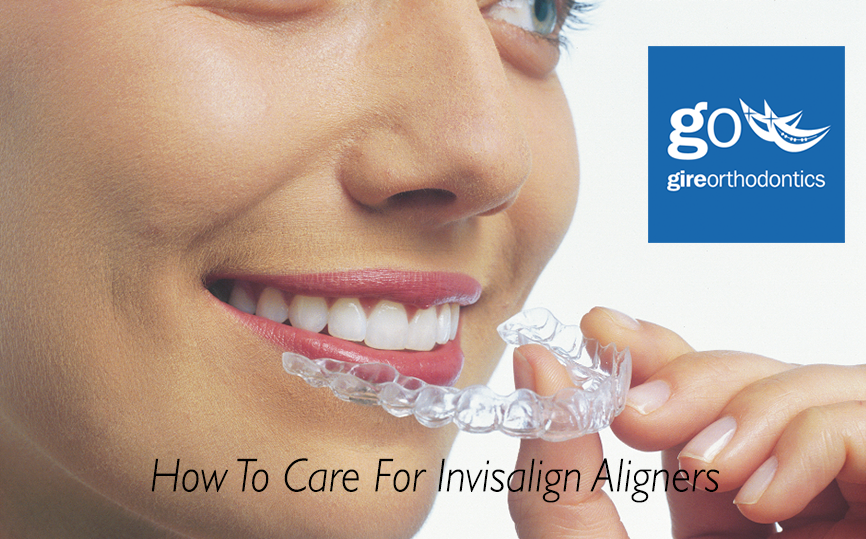 La Habra and Chino Hills, CA – Orthodontic patients everywhere love Invisalign aligners. They're clear, removable, and offer a beautiful result – what could be better? If you are thinking about Invisalign to perfect your smile, it's also important that you know how to care for the aligners.
"Caring for your aligners is actually very simple," says Chino Hills/La Habra Invisalign and Invisalign Teen premiere provider and orthodontist, Dr. Robert Gire. "Every time you take them out to brush your teeth, be sure to brush the inside and outside of the aligner with toothpaste. Additionally, if brushing is not enough to remove the plaque and debris in those hard to reach places with the bristles of the toothbrush, simply place your aligners in a cup of clear, white vinegar to soak, while you're eating a meal. After soaking for about 30 minutes, take the aligner out of the vinegar, and brush them as normal. It's like a brand new aligner!"
There are a few other tips Dr. Gire recommends when in Invisalign treatment.
Always take your aligners out when eating. Chewing food with the aligners in the mouth will damage and/or distort the aligners. Because your aligners are removable, there is no need to alter your diet while in orthodontic treatment.
Never drink hot liquids while wearing your aligners. Hot liquids will warp the plastic of the aligners, causing them to not fit properly over your teeth. If they don't fit properly, they can't move your teeth properly.
Avoid drinking anything other than water while your aligners are in the mouth. If you want to drink tea, coffee, soda, or any other beverage, the aligners need to be removed. Dr. Gire also recommends that his patients avoid smoking while in treatment as it can cause aligners to become distorted and/or discolored.
Don't chew gum with the aligners in the mouth. Just as you can't eat with your aligners, you shouldn't chew gum either, as it will stick to the aligners.
Don't chew on your aligners. Some people like to constantly chew on something, and patients may have a tendency to want to pop their aligner up and chew on it. This can damage it and cause it not to fit properly in your mouth.
Never leave your aligners in an area that's warmer than your mouth (like warm cars, etc.). The aligners are made of plastic, and can warp under high temperatures.
Store your aligners in the provided retainer cases when they aren't in your mouth to avoid losing them. Never wrap them in a napkin, as you might forget and throw them away.
Never switch to a new set of aligners before the two weeks is up, unless advised to do so by your orthodontist. Your treatment has been carefully planned out, and each new set of aligners is designed to work a certain way, and is dependent on the tooth movement of the previous tray. If you jump to a new aligner too soon, your teeth may not be completely ready for the new aligners.
If you ever have questions about Invisalign aligners wear or care during treatment, visit our Invisalign FAQ page or ask Dr. Robert Gire.