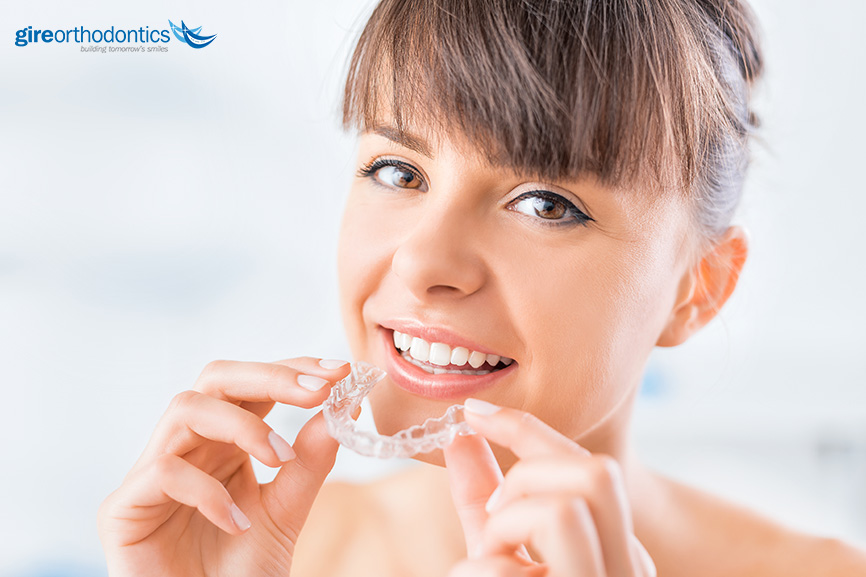 La Habra/Chino Hills, CA – Invisalign is gaining in popularity as an orthodontic treatment thanks to the advantages it offers patients. In addition to being cosmetically pleasing during treatment, the aligners are removable, meaning you don't have to avoid certain foods during your treatment. But, there are still things to consider when eating and drinking during Invisalign treatment. Dr. Robert Gire offers some important tips.
"There are some orthodontists that advise you to keep your aligners on when eating, says Dr. Gire. "Their rationale is that when you use them to function and chew, it helps the aligners set on the teeth more favorably and the teeth will track better during treatment. But for me, the risks outweigh the benefits. I don't want to risk breaking a tray and delaying their treatment. If a tray is broken or damaged due to eating, it will need to be replaced and it takes time to get new trays. Plus, if it happens too often, it could get quite costly. I tell my patients to remove their aligners before they eat anything."
"Don't drink anything but cold water with your aligners in. Some dental professionals may tell you drinking with your aligners on is ok, but I prefer for my patients to avoid anything but cold water," says Dr. Gire. "You only wear each aligner set for one or two weeks, but if you drink a lot of coffee, or enjoy a glass of red wine at night, or drink a lot of colas while wearing your aligners, you may notice that they can get discolored quite easily. One of the most popular reasons people choose Invisalign is for its invisibility – don't damage that by drinking anything that could stain the aligners. Likewise, avoid hot beverages as these can warp the plastic and alter the fit of the aligner in your mouth."
Your Invisalign aligners are durable and strong, but not indestructible. Chewing can break, crack, or distort the aligners, which will then negatively impact their effectiveness. One of the best advantages of Invisalign is that the aligners are removable so you don't have to alter your diet in any way. You can still enjoy all of your favorite foods, you just need to take the added step of removing your aligners before you eat.
In addition to the damage that eating and drinking while wearing Invisalign can do to your aligners, you can also damage your oral health. While the aligners fit over teeth, there will still be small spaces where food particles or sugars can slip under the aligner. Once there, the aligner will trap them against your teeth, where they can wreak havoc on your smile. When you eat, your saliva naturally washes away food particles and sugars, but the aligners will prevent the saliva from coming into contact with your teeth. Over time, decay can set in.
In addition to removing the aligners to eat and drink, it is also important to brush and floss before putting them back in. If you put the aligner back in without cleaning your mouth, you will be trapping anything left over against your teeth.
Eating, drinking, and caring for your teeth can be a breeze with Invisalign, as long as you pay close attention to the recommendations of your orthodontist.
To learn more about how orthodontic treatment such as Invisalign can give you the smile of your dreams and improve your oral health, call Gire Orthodontics today at 562-690-1199 (La Habra office) or 909-393-9911 (Chino Hills office).